Getting Started With Custom Embroidery
by Deon Moore | Sep 10, 2022
It's no secret that fashion repeats itself. While some fashion trends would be better left in the past (looking at you, popcorn shirt), there are times when a forgotten oldie is just the thing. Right now custom embroidery has returned to the limelight and embroidered apparel has become increasingly popular. From high-end to casual clothing, it seems custom embroidery is, if not one every corner, definitely on every block.
Despite the advance of machine embroidery, which takes less time and effort, embroidery with its classy, personal touch still represents a slower, more personal attitude towards fashion.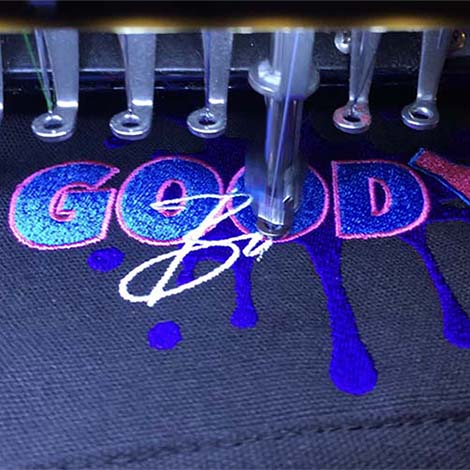 That's why every apparel store owner should know that this design technique is the way to create uniquely personal and noticeable fashion items. To help you jump on the trend as quickly as possible, contact us today to get started right away.
In the age of fast fashion, we're used to seeing apparel items in thousands of exact copies all over the world. An embroidered detail, no matter how small, adds that little extra twist to an otherwise simple outfit.
So, let's take a look at some of the most popular products we can embroider.
The t-shirt might seem like the most basic fashion item, but it's also the most versatile. After all, a good t-shirt never goes out of style.
Creating your custom embroidery designs on a shirt is a good starting point because this clothing item can be worn and styled for many different occasions and sold to different target audiences.
Embroidered jackets, hoodies, and sweatshirts
While t-shirts are highly favored items because of their versatility, when it comes to embroidery, jackets, hoodies, and sweatshirts are the ones that take the cake.
Custom embroidery for jackets is one of the most popular design techniques and can make an otherwise simple garment come to life by adding a pop of texture and color. Denim doesn't work well with printing, but it's always been a close friend to embroidery, thanks to its durability and wrinkle-resistance qualities.
With the rise of loungewear and streetwear fashion, hoodies and sweatshirts are also great products to embroider. Adding a unique logo on these casual wear items gives you a higher chance to stand out among your competitors.
A hat is one of the most noticeable accessories one can have, especially if highlighted with a unique design. For example, the bucket hat is a very popular choice of streetwear, and it makes frequent appearances on catwalks all over the world.
By adding custom embroidery to a hat, the design becomes part of an already bold piece. So don't be afraid to go wild when creating designs for the headwear in your store.
One of the best things about embroidered items is that they are eye-catching not only in real life but also in your online store. That's why adding them to your product list can help drive sales and make your brand more recognizable, personal, and trend-setting.
What's DTG Printing and How Does it Work?